Andhra Style Karam Dosa Recipe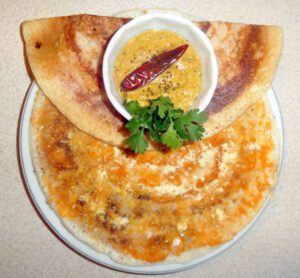 Karam Dosa Recipe is very popular in Rayalaseema region of state Andra Pradesh, especially in Kadapa district. In Karam Dosa, Karam means red
Type: Karam Dosa Recipe, Indian Food, Indian Cuisine
Cuisine: Karam Dosa Recipe, Indian Food, Indian Cuisine
Keywords: Karam Dosa Recipe, karam dosa, dosa karam
Preparation Time: 10M
Cooking Time: 15M
Total Time: 25M
Recipe Ingredients:
Karam Dosa Recipe is very popular in Rayalaseema region of state Andra Pradesh, especially in Kadapa district. In Karam Dosa, Karam means red chutney prepared from onion and red chillies (ulli kaaram). It is spread over the dosa, giving awesome flavour.
You may also like:
Karam Dosa is very good breakfast with lots of carbohydrates. If you want to serve with Aloo curry you can put the curry in the middle of dosa and fold it both sides.
Preparation time: 10 mins (excluding soaking time)
Cooking time: 15 mins
Serves: 2
Karam Dosa Recipe Ingredients: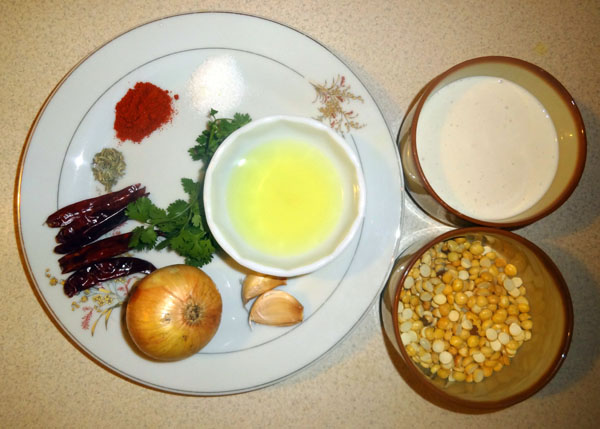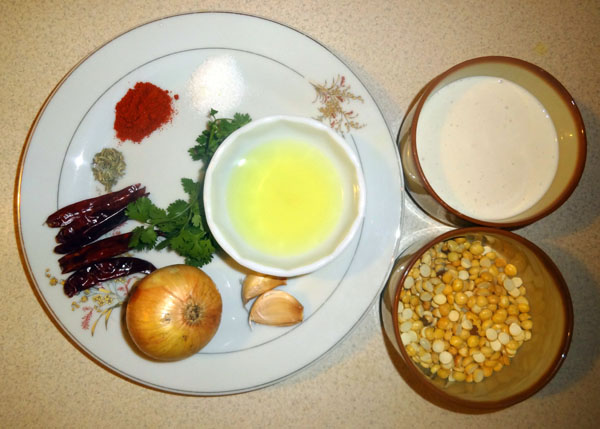 For Dosa Batter:
1 1/2 cup rice
1/2 cup urad dal
1 tsp fenugreek seeds (for nice flavor)
1/2 cup boiled rice (for nice red colour)
2 tsp oil for frying Dosa
A pinch of baking soda
For Karam (Red Chutney):
2 big size onions (quartered)
1 tsp red chilli powder
1 tsp cumin seeds
2 tsp oil or ghee
Salt to taste
For Pappula Podi:
1/2 cup fried gram dal
1 garlic pod
Salt to taste
Karam Dosa Recipe Preparation:
For Dosa Batter
Wash rice, urad dal, fenugreek seeds and soak them for 6 hours.
After 6 hours you can grind all together with boiled rice to a smooth paste and mix well.
And let it ferment over night at room temparature. Now your dosa batter is ready.
For Karam (Red Chutney)
Grind chopped onions, red chilli powder and salt to a paste (it should not be very fine paste). You can use fried red chillies instead of red chilli powder.
Add 2 tsp of oil in a pan and add cumin seeds and stir it for few seconds and then add the above paste.
Fry it until the raw smell goes away. You can use ghee for seasoning to give it extra flavor.
For Pappula Podi
Grind fried gram dal with garlic and salt to a fine powder.
For Karam Dosa
Take the fermented dosa batter in a bowl and add salt and a pinch of baking soda and mix well.
Take a Dosa pan and heat it. When it is hot, pour the ladleful of dosa batter and spread the batter in a circular shape.
Pour 1 tsp of ghee over the dosa and let it cook for 1 min. Then flip the dosa and let it cook for 1 more minute.
Again turn the Dosa and spread the red chutney over dosa and sprinkle pappula podi all over dosa and pour some ghee over dosa and fold it to half.
Let it fry for a minute and serve hot.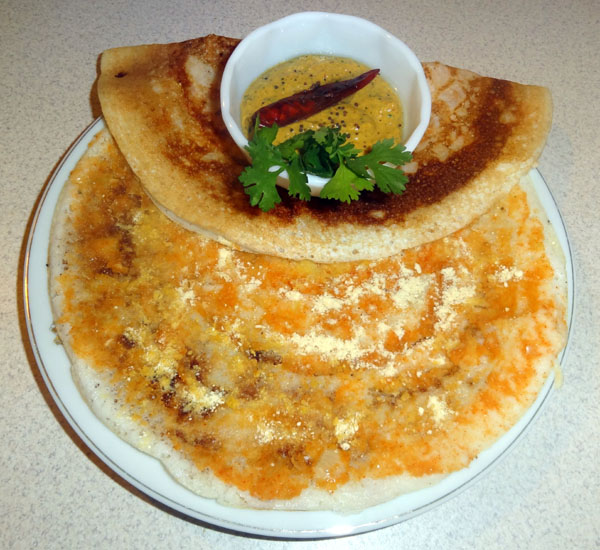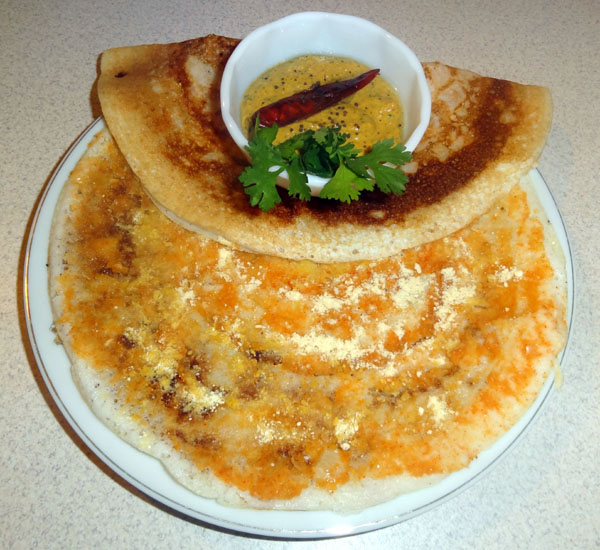 Serving Instructions:
Serve Dosa with coconut chutney or groundnut chutney or tomato chutney of your choice.