Winter Special Atta Dry Fruits Ladoo Recipe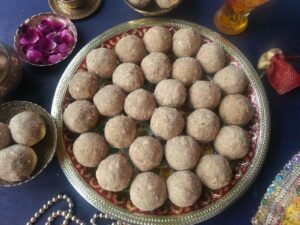 Atta Dry Fruits Ladoo Recipe: Apart from gajar ka halwa, this is one of the most appreciated winter delicacies.
Type: Dry Fruits Ladoo Recipe, Indian Sweets, Dessert
Cuisine: Dry Fruits Ladoo Recipe, Indian Sweets, Dessert
Keywords: atta ladoo, dry fruits ladoo, atta ladoo recipe
Preparation Time: PT10M
Cooking Time: PT15M
Total Time: PT15M
Recipe Ingredients:
Atta Dry Fruits Ladoo is a healthy and tasty snack that is perfect for any time of the day. Made with whole wheat flour, ghee, and a mixture of dried fruits, this ladoo is not only delicious but also nutritious. It's a great alternative to traditional sweet treats and can be enjoyed by people of all ages.
You May Also Love These Delicious Indian Sweets Recipes
It is easy to prepare and an excellent source of energy and satisfy your sweet craving. Have it empty stomach each morning with the glass of milk.
Since the old generations, atta laddo is prepared for the new moms as it is considered an excellent source of nutrition for them and many perceive it to be beneficial for lactation.
Servings – 12 – 15 Pieces
Preparation Time – 10 Minutes
Cooking Time – 30 Minutes
Cuisine – Indian
Course – Sweet Dish
Equipment – Pan, Ladle, and grinder
Calories – 380 calories per serving
Atta Dry Fruits Ladoo Recipe Ingredients:
Wheat Flour: Cup
Powdered Sugar: 1.15 Cup
Ghee – ¾ Cup
Cashew Nuts – 8-10
Almonds – 8-10
Gondh/ Babool – 2 Tablespoon
Fox nut – 1 small bowl
Atta Dry Fruits Ladoo Recipe Preparation:
First step is to roast all the dry fruits and keep it aside.
Take a pan, heat it, and add some ghee in it. Roast the fox nut till it gets crispy, keep it in a bowl, and now add gondh in it. Roast on low flame till they get fluffy.
Keep it in the bowl of fox nuts. Finally, add chopped almonds and cashew nuts in a pan, and roast them for 2-3 minutes.
Grind the fox nut and gondh. Do not make the fine powder, keep it grainy. Keep all the roasted dry fruits in a bowl.
Pre-heat the pan. Add some ghee into it, and leave some in the bowl to use it later.
Add flour and stir continuously, till it gives nice aroma and turns brown.
Once it is done, turn-off the gas and stir it for 2 minutes. Take the roasted flour on the plate.
Allow it to cool a bit, add all the roasted dry fruits. Mix well.
Do not completely cool the flour; otherwise, you will not be able to bind them.
When it is not that hot, add powdered sugar and mix well with the help of hands.
Do not put sugar in the hot flour, sugar will melt.
Now take the small amount from the mixture and roll it with your hands giving it a round shape.
Repeat the process and the ladoo is ready to serve
Conclusion
In conclusion, Atta Dry Fruits Ladoo is a simple and quick recipe that is perfect for those who want to enjoy a sweet and healthy snack. By using whole wheat flour and ghee, this recipe offers a wholesome alternative to traditional sweets. And with the addition of dried fruits, it also provides a boost of nutrients and fiber. Whether you're looking for a mid-day snack or a sweet treat after dinner, this Atta Dry Fruits Ladoo is sure to satisfy your sweet tooth.