South Indian Vegetable Stew Sambar Recipe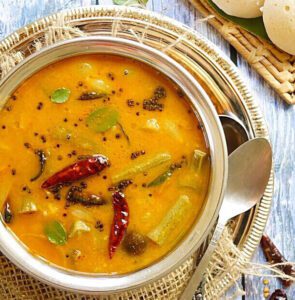 Sambar Recipe: Sambar, a lentil and vegetable-based stew or chowder, was originated in Southern India and is generally eaten..
Type: South Indian Food, Sambar Recipe, Indian Food
Cuisine: South Indian Food, Sambar Recipe, Indian Food
Keywords: south indian sambar recipe, sambar recipe, how to make sambar
Preparation Time: PT10M
Cooking Time: PT35M
Total Time: PT45M
Recipe Ingredients:
Sambar Recipe: Sambar, a lentil and vegetable-based stew or chowder, was originated in Southern India and is generally eaten with almost all popular South Indian dishes like Masala Dosa, Medu Vada, Idli, etc.
Ingredients Required for Making Sambar Recipe
1 Cup or 200 grams (approx) of Arhar Dal aka Pigeon Peas
Water as per requirement
1 Carrot
1 drumstick aka Munga or Saijan ki Phalli
30 ml vegetable oil
Asafoetida
1 teaspoon of Mustard Seeds
2 to 3 Red Chilies
8 to 10 Curry leaves
1 tablespoon of chopped Ginger
1 tablespoon of chopped Garlic
1 medium-sized onion
1 tablespoon Sambar Powder
3 medium-sized Tomatoes
1 tablespoon of Sugar
1/2 (half) teaspoon of Turmeric Powder
2 to 3 tablespoon of Amchoor Powder or 2 1/2 (two and a half) Tablespoon of Tamarind Pulp
Salt as per taste
1 tablespoon of

Homemade Garam Masala Powder

1 tablespoon of Coriander leaves
Red Chilli Powder as per taste
Cooking Method for Sambar Recipe
1. Take 1 Cup or 200 Grams of Arhar Dal (Pigeon Peas) and wash it very well using cold running water. After washing, soak the Dal for at least 10 minutes.
2. Now take a 3 liter pressure cooker and put the Dal inside it:
3. Start pouring water into the cooker, so that the level of water comes at least 5 to 6 cm above cooker surface:
4. Close the lid of the cooker tightly and start heating it. When you hear the first whistle, turn off the heat and allow the cooker to cool naturally.
Important note: The quality of Dal as well as Water determines the total cooking time of boiled lentils. If you are using low quality Arhar Dal or Hard Water, then the Dal may take more cooking time.
5. Allow the steam to escape and open the cooker lid. Blend the Dal using a Hand Blender in a separate utensil.
Pour the blended Dal back inside the cooker and put one chopped carrot and one chopped drumstick inside it. Close the lid and pressure cook for another whistle. Turn off the heat after the whistle and allow the cooker to cool naturally.
Open the lid and you will see your Dal along with soft (or boiled) Carrots and Drumsticks. Keep them aside.
Important note: If you want you can also add small pieces of pumpkin (Kaddu) and bottle gourd (Lauki) inside the cooker. Also, instead of using drumsticks, you can use Green Beans.
6. Take 30 milliliters of vegetable oil in a frying pan and start heating it. When the oil becomes hot, add a pinch of Asafoetida (Heeng) in it.
7. Add 1 teaspoon of mustard seeds in the pan and they will start crackling in hot oil.
8. Add 2 or 3 Red Chillies, 8 to 10 Curry leaves, one tablespoon of chopped ginger, one tablespoon of chopped garlic and one full onion (finely chopped) in the pan. Mix everything very well and keep frying until the onion starts becoming light brown.
9. Add one table spoon of Sambar powder and mix everything again.
10. Add three medium-sized chopped tomatoes, one tablespoon of sugar, half teaspoon of turmeric powder, 1 tablespoon of salt (or as per your taste), red chilli powder as per taste, half cup of drinking water and mix everything very well.
11. Add the Dal which we kept in a separate utensil in the pan. Also, add 2 to 3 Tablespoon of Amchoor Powder OR two and a half tablespoon of Tamarind Pulp.
12. Now, add one table spoon of Homemade Garam Masala Powder and 1 tablespoon of coriander leaves. Cover the pan with a plate and let everything cook for about 2 minutes.
Your delicious Sambar is now ready to be served with Masala Dosa (with Aloo Subzi inside it) and Coconut Chutney
Summary
And that's a wrap on our Sambar recipe! We hope you enjoyed making and eating this flavorful and hearty South Indian dish. If you have any questions or comments, feel free to reach out. Until next time, happy cooking and enjoy your Sambar!