India is a country where different types of foods are available in a different region. So if you go to different places in India you will be able to taste the unique cuisine of that particular place.
Similarly, if you go to South India you will be able to taste some simple south Indian dishes which will make you feel that even the simplest form of food can give you utmost pleasure.
One of the most common food items of South India is the idli. It is a soft white colored cake which is made of rice and lentil. Generally, it is served with sambhar and coconut chutney. But you can modify it with different types of side dishes according to your taste.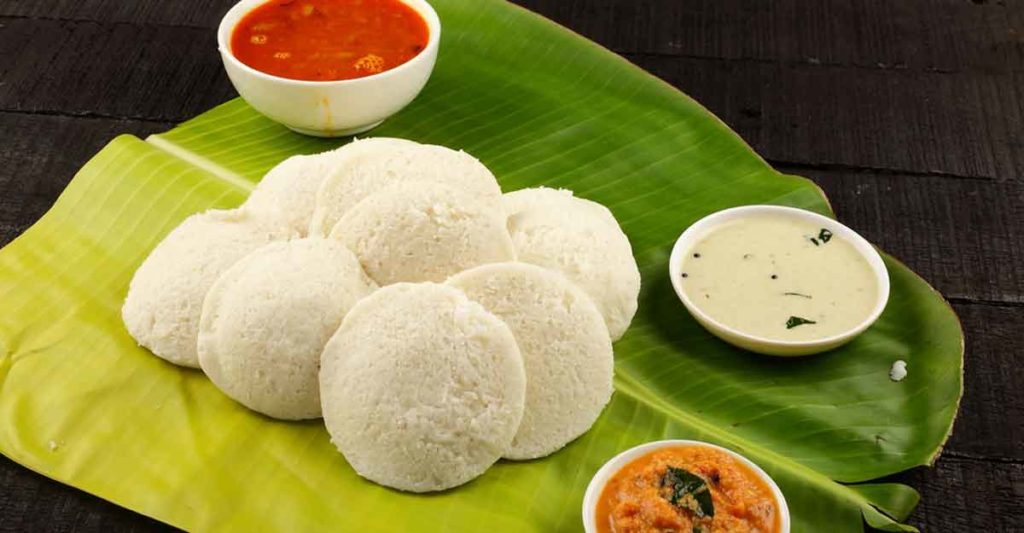 This is a new way of eating rice in the South Indian region and quite healthy because no extra fat or spices are used to make it. Idli is used in all types of meals in South India like breakfast, lunch and dinner. And you will get it anywhere in that particular area in this country.
If we talk about idli and South India then we cannot miss out Sambhar at all. It is a simple soup made with several vegetables like onion, tomato, carrots etc. one of the major ingredients in this recipe is the tamarind.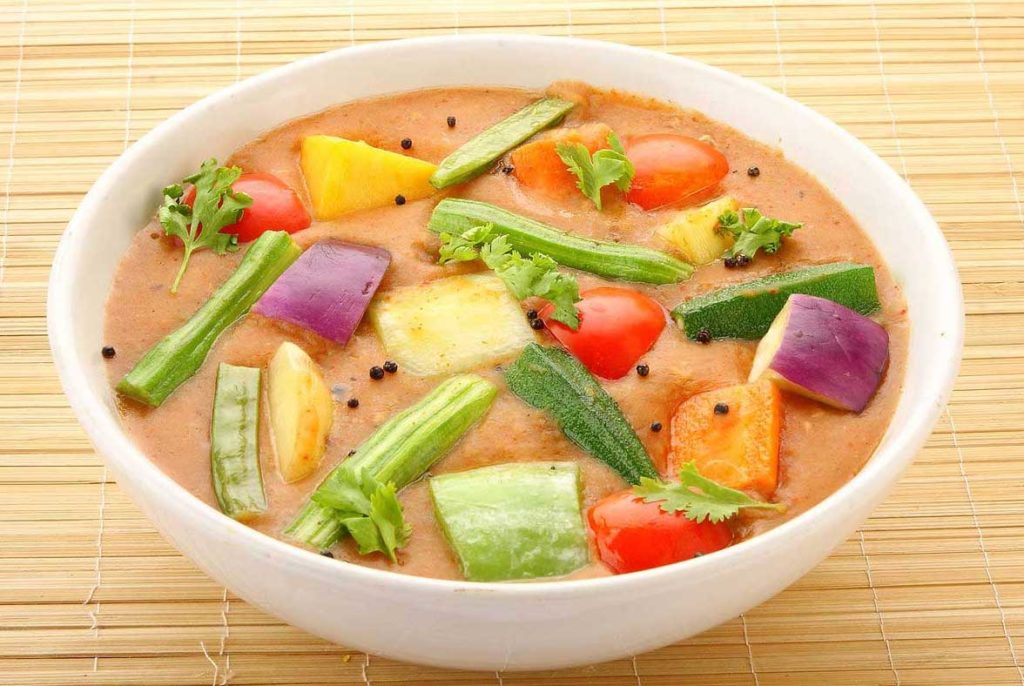 That is why the taste of Sambar is a bit sour and also the acid present in tamarind will help you to digest your food in a better way. And if you want to add some more taste to this dish then you can add coriander leaves into this.
Another important and common food item in South India is Dosa which will be found in almost every household there. It is made with urad dal and rice.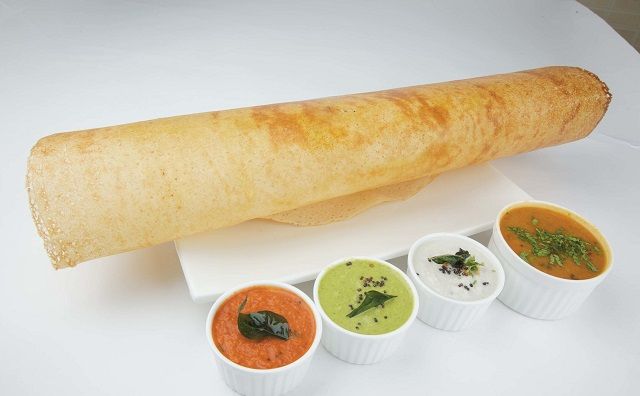 It is one of the major staple foods in South India and people make it in different ways to fit this into any type of meal preparation.
You can find dosa as a regular main course and also some sweet dosas like banana dosa and fruit dosa as dessert items.
If you need a snacks item while you are in South India then Medu Vada is the option for you. This vada is made with urad dal and it is deep-fried to make crispy.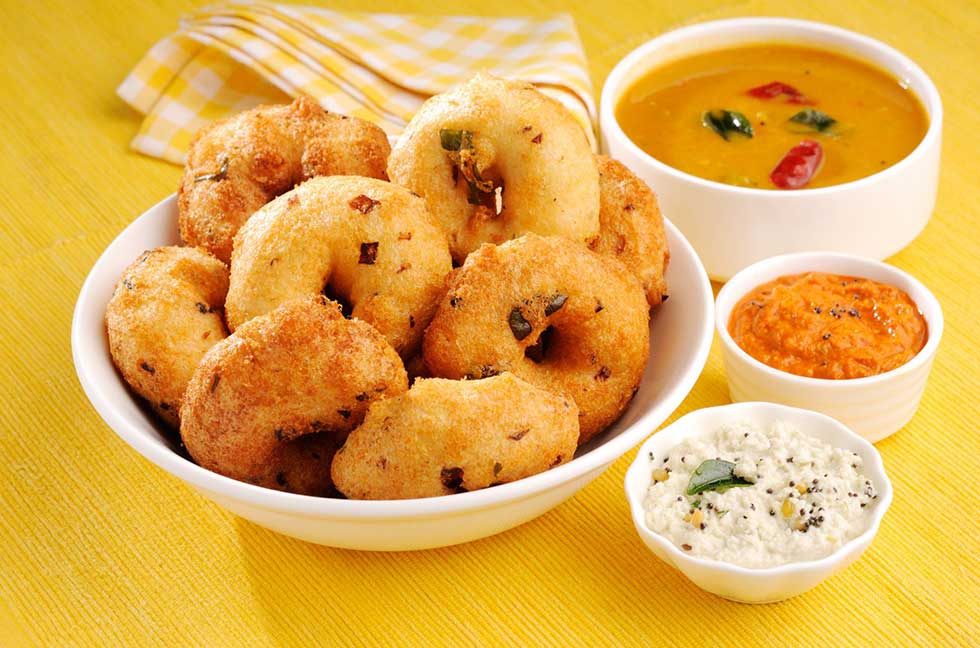 At first, the dal is soaked and mixed with a lot of spices to make it taste great. Then it is fried till it is golden colored and is served with coconut chutney most of the time.
So if you are thinking what are the items you can eat as snacks in South India then Medu Vada is a great one to go for.
Upma is a very popular breakfast item in South India which is prepared with suji. Some different types of vegetables are added to make it healthy like carrots, beans, onions etc.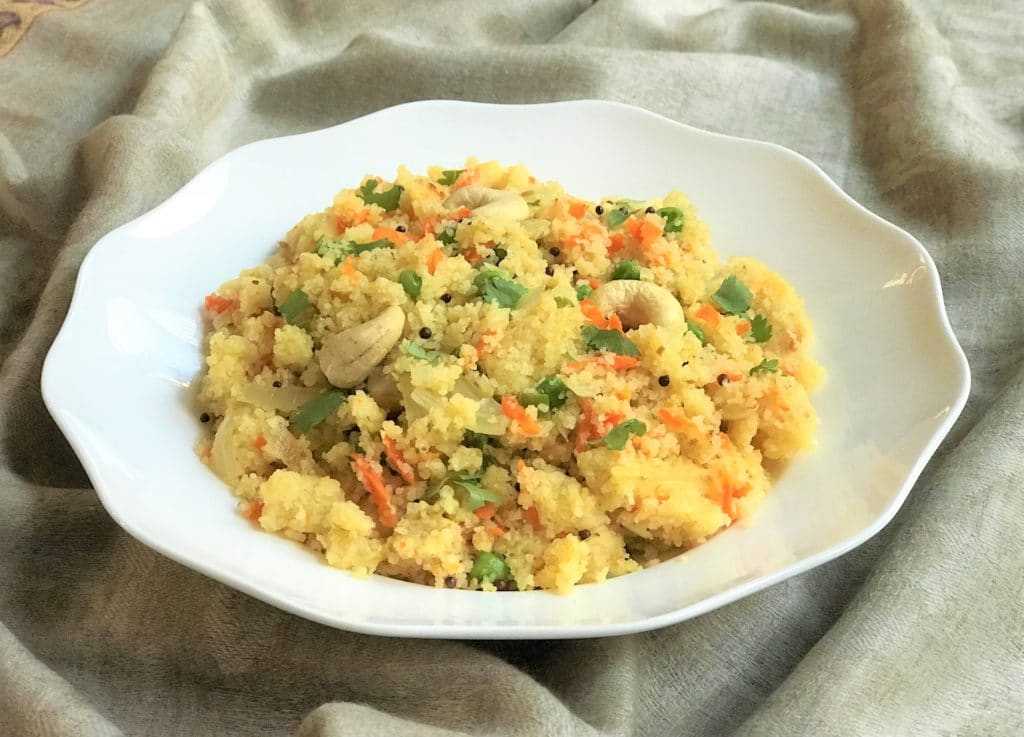 In South India, Upma is a great item to serve to the children and they love to taste it because of the unique flavors made according to the household tradition.
6. Rasam
It is one of the major dishes in South India and the must-try one for anyone who wants to taste the flavors of South India. It is a simple soup made with the pulp of tamarind and served with normal rice and dal.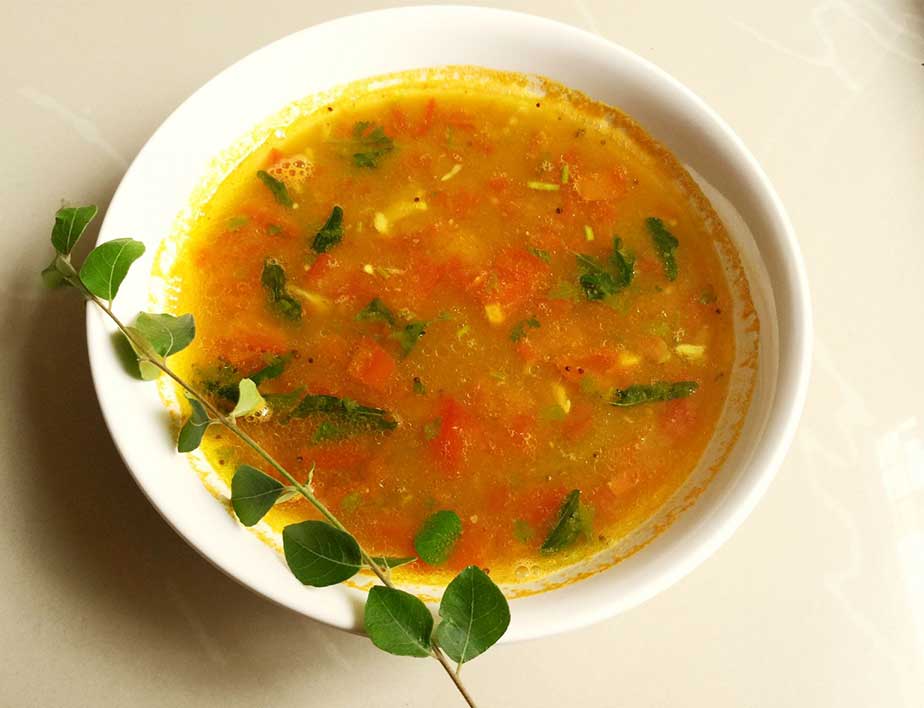 Some people add different types of vegetables in it to make it even richer in taste. It is believed to be a good appetizer and also helps to digest our food better.
7. Tamarind Rice
You will find a tinge of tamarind everywhere in South Indian food and one of the item with tamarind is tamarind rice. Normal boiled rice is sautéed with a bit of tamarind and other spices along with some vegetables like carrots, onions and peanuts to make it a full-fledged meal item.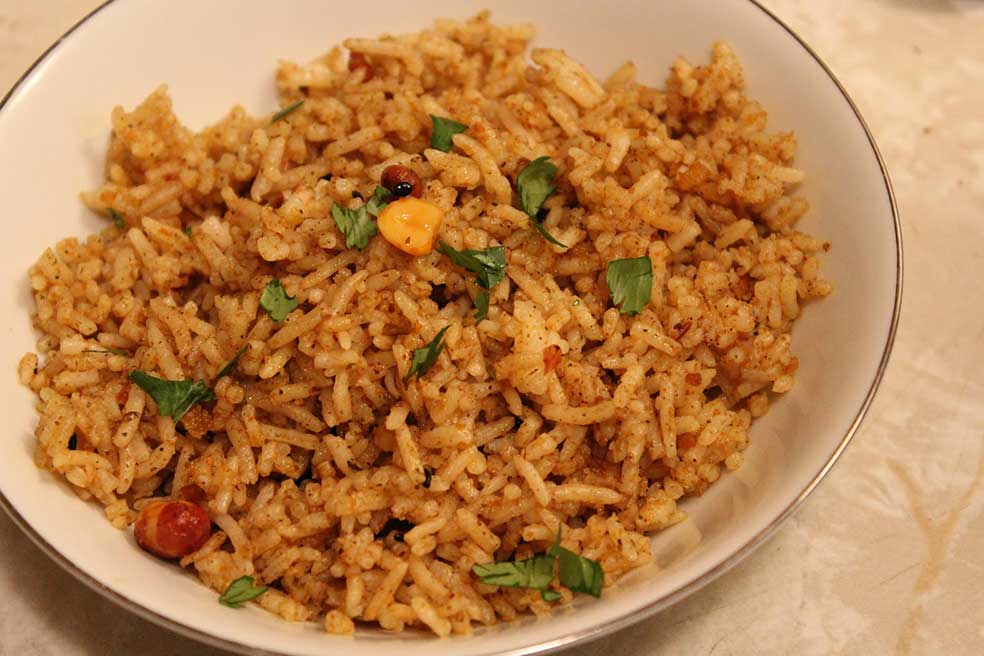 So if you love the taste of tamarind then you must try out tamarind rice in South India.
8. Onion Uttapam
This is also one type of Dosa which is fried until brownish. Then onion is added as a topping. Some people also add some tomato or other vegetables to make it tastier. Generally, it is served with coconut chutney and sambar.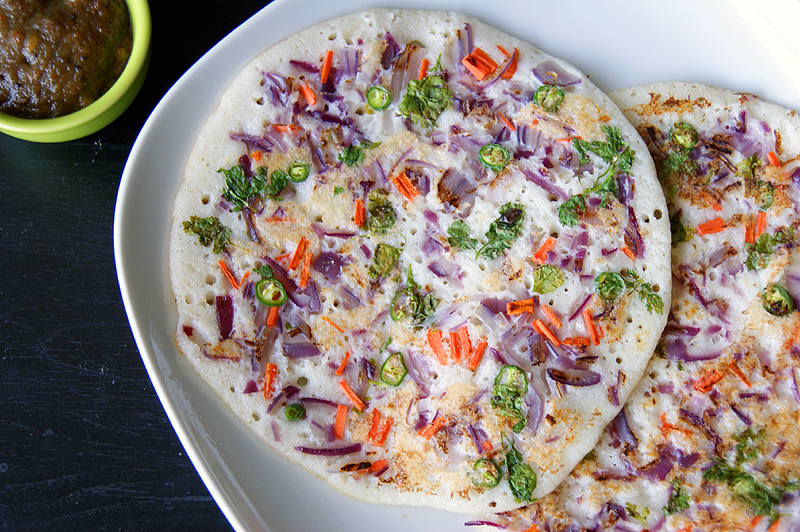 And the South Indian people prefer this food as their meal at any point of time in a day. So if you want some wholesome breakfast or lunch then onion uttapam is a great option for you.
9. Rava Dosa
Rava Dosa is a different type of dosa where the main ingredient is rava. And the method to make it is completely the same and it is served with coconut chutney and sambhar as well.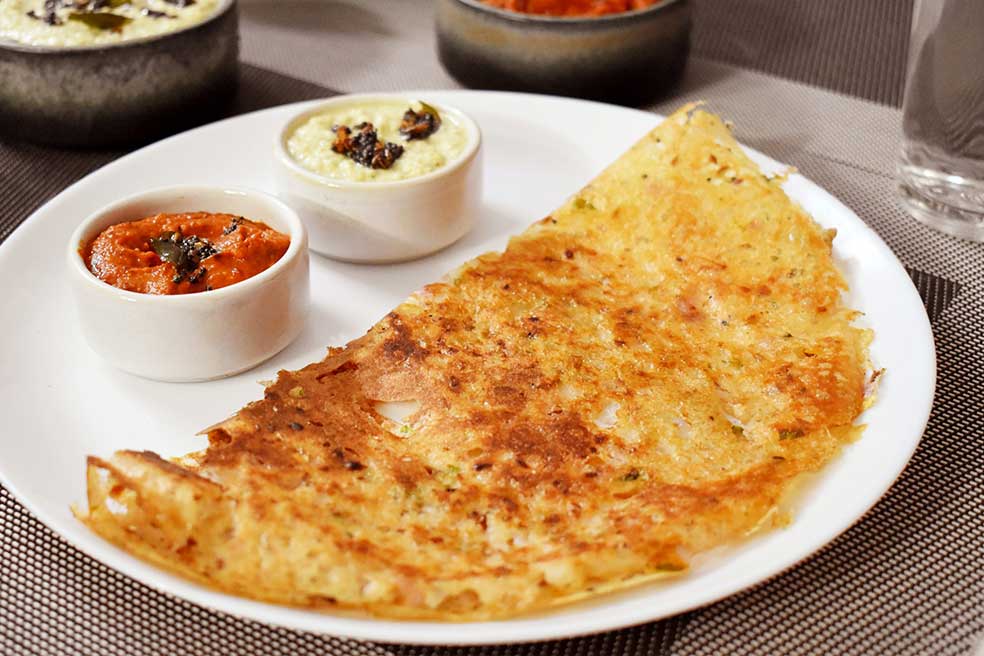 But generally when people get bored by eating the same thing every day then this type of different flavor adds a bit quirk in life.
Vegetable Semiya is made with vermicelli. It is a very popular breakfast dish in South India and whoever goes there, try it for sure. Most of people love this breakfast item including children because it is similar to noodles in South India.
Generally, vermicelli is fried and some vegetables like onion, beans, and carrots are added to it. So for a change of taste Vegetable Semiya is a very good option if you want a wholesome breakfast in South Indian style.
So these were some awesome South Indian foods which are good if you want to have the idea of foods of this region in India. If you ever go to South India must try out the cuisine there because those are unique and also quite simple.
So you can say that South Indian food is quite healthy also. In most of the south Indian dishes, they use curry leaves and tamarind which helps to control our digestive system in a better way.
Summary
South Indian cuisine is known for its delicious and healthy dishes that are packed with flavor and nutrition. From savory dosas and idlis to tangy chutneys and spicy sambars, South Indian food offers a range of delicious options that are sure to tantalize your taste buds. If you're a fan of Indian cuisine, or just love trying new and exciting dishes, be sure to give South Indian food a try.