Thick and Creamy Andhra Style: Peanut Chutney Recipe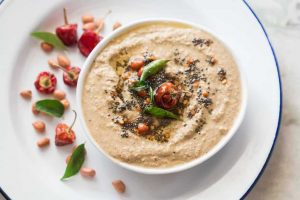 Peanut Chutney Recipe: "Peanuts" are the collection of healthy nutrients and protein. Do you wait for the fresh peanuts to arrive in the market when winters
Type: Peanut Chutney, Peanut Chutney Recipe, South Indian Food, South Indian Dish
Cuisine: Peanut Chutney, Peanut Chutney Recipe, South Indian Food, South Indian Dish
Keywords: peanut chutney recipe, peanut chutney, how to make peanut chutney
Preparation Time: PT5M
Cooking Time: PT10M
Total Time: PT15M
Recipe Ingredients:
Peanut Chutney Recipe: "Peanuts" are the collection of healthy nutrients and protein. Do you wait for the fresh peanuts to arrive in the market when winters start to approach? I do.
A handful of peanuts are enough to satisfy your craving. But now it is available round the year in the market as a snack and in different forms. Although peanuts are available in different forms like peanut butter, flour, and oil but do you want to try one other form of peanut, that is, peanut chutney. No deep frying, no extra calories, just a combination of different spices, onion, garlic that makes it more healthy and delicious.
If you have a hectic schedule, do not have enough time to cut and cook the vegetables, keep this recipe handy, indeed, it cannot replace the vegetable requirement but yes it is a healthy and delicious alternative.
In my recent blogs (post), I have shared some of the South-Indian recipes – Dosa, Idli, Medu Vada. Prepare this chutney along with those recipes; it will make your dish more flavoursome and delight.
Peanut Chutney Preparation:
Prep Time: 5 mins
Cook Time: 10 mins
Total Time: 15 mins
Course: Side Dish
Cuisine: Indian
Servings: 1 Small Bowl
Calories: 550kcal
Equipment: Grinder, Bowl, Tadka Pan
Peanut Chutney Recipe Ingredients
¾ Cup Peanuts
8-10 Curry Leaves
1 tbsp Mustard Seed
2 tbsp Oil
3-4 Garlic Cloves
½ Onion Diced
3-4 Whole Red Chilli
1 tbsp Cumin Seeds
½ tbsp Asafoetida
½ tbsp Salt as per taste
1 tbsp Urad Dal
Peanut Chutney Recipe Recipe Preparation
Take a pan, heat it. Add the raw peanuts, dry roast it for 7-8 minutes.
Take the roasted peanuts in the bowl, add 1 tablespoon oil in the pan, let it heat.
Add garlic cloves, whole red chillis, and onion in the pan, roast for around 2 minutes.
Add 1 tablespoon cumin seeds, roast them for 1 minute. Now add ½ tablespoon asafoetida and roast.
Put these roasted spices and roasted peanuts in the jar. Add ½ tablespoon salt and ½ cup water.
Grind it to make a fine paste. Now place this mixture in the bowl.
Take a tadka pan, add oil and heat it. Add mustard seeds in it. Once it is roasted, add whole red chilli, urad dal, and curry leaves.
Lightly fry all the other ingredients, to give it a final touch.
Add this fried mixture in the chutney and mix well.
Serve this chutney with the South Indian recipes or with the other breakfast options.
Important Notes
You can cook it with the peanut skin or without the skin; it depends on your choice. Both the ways, it tastes good. Also, some people don't eat garlic and onions, you can avoid using it, and rest follow the same steps.
Again, the peanut is known for its unique taste, not using the garlic or onions will not affect the taste.
Green coriander chutney and mint chutney are commonly used in the breakfast and with the meal. This time try out this chutney with the meal, it will give a delicious spice kick.
Summary
The peanut chutney is a flavorful and versatile condiment made from roasted or boiled peanuts, spices, and herbs. It is a staple in Indian cuisine, often served as a side dish or dipping sauce with samosas, idlis, dosa, or other dishes. It can also be used as a spread for sandwiches or wraps. The texture and flavor can be adjusted by adding more or less water or spices. Overall, the peanut chutney is a delicious and nutritious addition to any meal.